About the heads: ordering, conservation & sustainability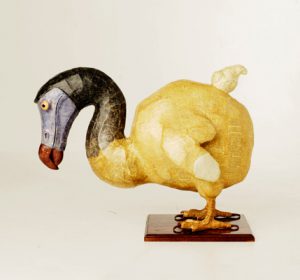 Bespoke or 'Off the Shelf?': I am happy working either way, is the short answer.Each head I make is 100% unique/bespoke (no use of casting or moulds in my world). So your piece will not look like it has rolled off a factory conveyor belt or been cloned by a mad scientist. How long will it take? It depends on my workload, the weather & how complicated the sculpture is. There is no exact science but I have never missed a deadline once I have agreed to it. As a very rough 'rule of thumb' on average a sculpture takes two weeks to make, it can be a little less or a little more.
My work is made to exhibit or sell directly but I am just as happy to work with clients who may have a more specific idea of what they want. This could be a piece that has to fit a restricted space or in the case of boutique hotel, working within a specific design brief (for example think of a Highland hotel with Red Deer Stags & Wild Boars).
I genuinely welcome input from clients. The web site and price list can only hold so many images so if in doubt, or a creature is not shown then there is no harm in asking! Finally, there is a misconception 'that although I like them, a piece will not fit in my house'. From experience in 99.9% of cases this just isn't so!
The Heads: I have taken advice from Museums and paper conservators with regard to maximising the life span of the sculptures. In accordance with their advice, each piece is coated inside and out with pva glue in order to bind and seal the paper layers.
The exterior of the work is then hand-painted with polyurethane varnish to give it a tough durable coating; the work can therefore be easily maintained. However, although thoroughly sealed the sculptures are not suitable for exterior display.
The Shields: are manufactured to order by a local joinery, using sustainable-farmed African hardwood. They are then hand finished by a cabinetmaker and embellished with an engraved brass name plaque.
Anything else: Feel free to ask. My work has & continues to be exhibited both nationally & internationally. I have had several solo exhibitions in London's West End and taken part in television, radio and film projects.