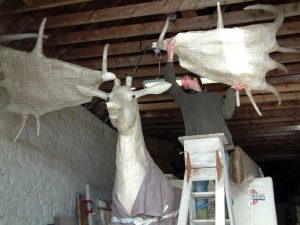 I was born in Leeds & had a very happy family life as the youngest of four siblings in the days where semi-feral children were still free to find adventure and imaginations were not trapped within the constraints of four suburban walls, plugged in to a playstation. I spent many days trawling the stuffed exhibits at Leeds museum when the school was closed due to the infamous power cuts in the 70's. Dad would take the day off work & try suggest another venue but the museum always won. It is an imposing building fabricated from tiles, marble & mahogany infused with the smell of real beeswax polish. In addition to many other un-p.c exhibits they have a HUGE stuffed Tiger in its own jungle diorama/room. In this modern educational world of 'interactivity', museums like Leeds, Pitt Rivers in Oxford & Dublin Natural History, still exude the old school charm of the Victorian and Edwardian era. Imposing cathedral-like buildings where the exhibits command your attention without the need for a flashing computer screen to poke at like an over stimulated lab rat.
I was raised in a village between Wetherby and Harrogate called Spofforth, whose claim to fame was being the birthplace of Hotspur, arch-villain of Prince Hal in Shakespeare's Henry IV. The village has a river, a castle to climb & lots of space in which to play Robin Hood. I have lived in Masham, in beautiful Wensleydale, Knaresborough, rural Surrey and more recently the Cotswolds. I love countryside, villages and open spaces, all of which have provided inspiration of some kind. I studied a fine art degree in Sunderland and The Hague, majoring in printmaking & graduating in 1990. I still draw, if not as much as I'd like to and have a printing press raring to go, when I can find a minute. When the opportunity arises I love wildlife photography. Taking reference images for the next commission, waiting for the perfect (camera) shot.
The sculpture has developed enormously since the early days. Being able to travel and share the environment that originally inspired the work has been a huge privilege. To find it has the magical ability every visit is a jumbo-sized bonus.
The abiding memory regarding sculpting animal form is that there is no substitute for being there first-hand for complete sensory immersion. Every time I visit Africa I leave a little bit of my dreaming self behind in the red dusty landscape. The experience of communing with animals we endeavour to replicate (within their ecosystem) is a revelation. Realizing that they are ecosystems in their own right with a trail of bugs, birds and beasties in tow. The smells and sounds are like a micro-town square on a busy market day. These are the essential references a dusty old encyclopedia & Walt Disney find impossible to convey!
As a logical progression from the conservation-promoting aspect of the work I have become involved with the recently established Kenya-based wildlife charity ARR, researching on site at their amazing Naivasha reserve.